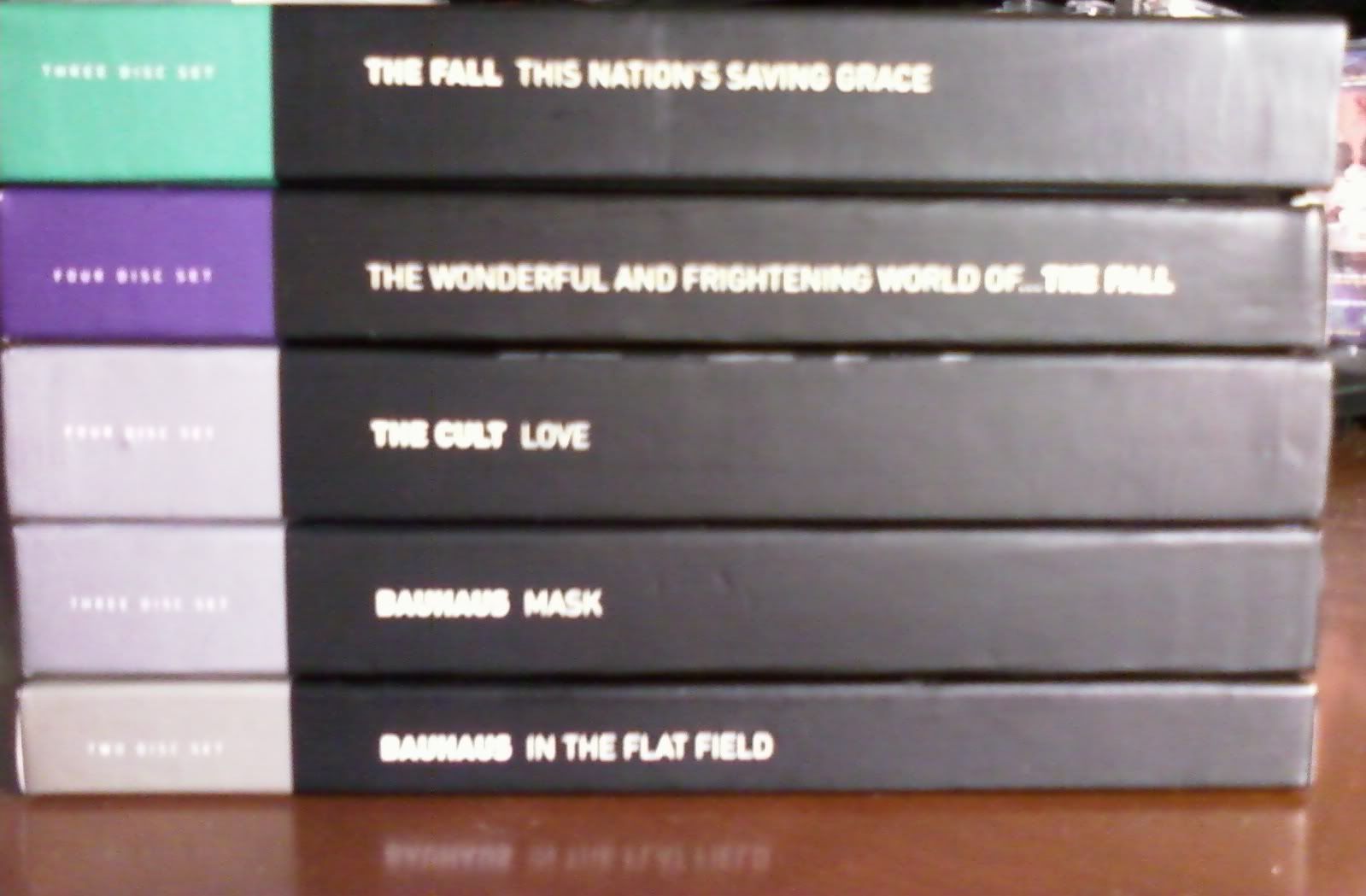 A lovely stack.
While I've been digging through post-punk, alternative rock and their relatives and descendants, my father has continued on his longest musical path, which relates most to roots, folk, 'alternative country' and the like. My appreciation of defunct local band Two Dollar Pistols confused both of my parents, as it was noted that they seemed "more like [your father's] music" by both of them. Of course, they played in the Borders I used to work in, as our Sales Manager, Gerald, was very invested in music and the local scene--and, despite a move, he continues to be invested in music. So I had a solid starting point for the band, and I've found that baritone vocalists appeal to me in some way that I'm still trying to figure out, as there aren't many around. Let's set that aside though, and I'll agree to talk about my father's interesting influence on my taste in music some other time.
Still, this meant that I was out looking for the reissue of Smashing Pumpkins'
Gish
¹
while trying to get him to a place he could find the new Dylan tribute
Chimes of Freedom
for a price he'd accept. He'd actually texted me some time prior to try and acquire a copy through my current job, but, well, nothing doing. I don't work somewhere that's going to carry niche compilations, however large that niche might be.
When we got back--as I was visiting for a few days--he encouraged me to "dub" the collection for myself, which I shrugged and agreed to. After all, some artists of interest to me that are less familiar to him (like Tom Morello as "the Nightwatchman," Queens of the Stone Age, Bad Religion and Thea Gilmore--though he'd like her if I remembered to introduce him one of these days) and there were even more we share some measure of taste for: Elvis Costello, Mark Knopfler, Pete Townshend, Steve Earle, Johnny Cash backed by the Avett Brothers (!), et al. (a little Latin for him to criticize my usage of, or possibly give me an extended history on!).
Let me pause here and note that my parents were finished with graduate school when they had children, and I am the youngest. So, there's a decent technological generation gap. This is to explain the term "dub" which may not even make sense to some of my contemporaries. Dubbing was, of course, the term for recording from a source to an audio cassette primarily--though I know he used to do reel-to-reels as well, and indeed still has a player for those alongside his 8,000 vinyl record albums. Hey, at least I got him to stop transposing "burn" and "rip." He'd done it long enough that my less-likely-to-discuss-it mother had them confused.
But this collection, of course, is four discs of material in a single, all-cardboard digipak. No muss, no fuss, no booklet, no anything, really, except the contents. He noted that they "really cheap-ed out" on the packaging, and I was left to muse this. As someone who has an unhealthy devotion to cheap packaging gimmicks, though a thankfully rationalized and mostly-controlled one, this struck a sort of chord with me.
It's with this that I want do discuss the image I started this post with. That is my collection of the Beggars Banquet "Omnibus Editions" released to this date. Pictured, in order (alpha by artist, then chronological, as I keep my music in general), are: Bauhaus'
In a Flat Field
and
Mask
, The Cult's
Love
, and The Fall's
The Wonderful and Frightening World of...
and
This Nation's Saving Grace
.
In more detail, here are the sets in most of, if not all, their glory: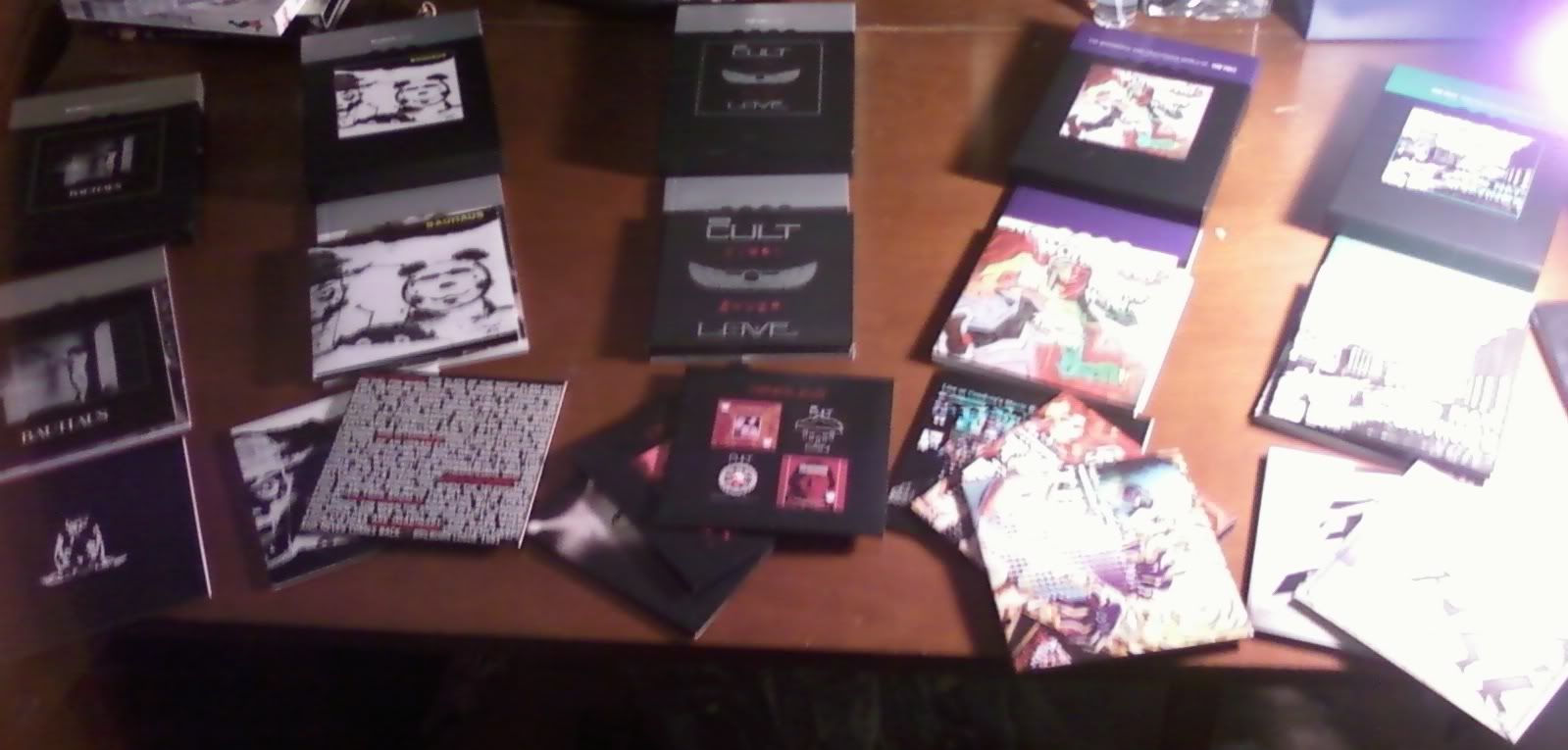 They are, respectively: two, three, four, four, and three discs.
Each does a lot of the things I love in these sorts of extensive reissues, which I'll talk about in general some other time, but here are the highlights, to give you some idea:
Each album is placed in an over-sized box (roughly the height of the average DVD case), done with nice matting, a central image of the album cover and the title in the coloured bar at the top. When opened, one finds a nice, well-made booklet that fills the horizontal and vertical dimensions of the box. They are all a nice sit-and-read length, and filled with information, anecdotes, interviews and factual errata. Beneath that rests the stack of discs for each release, beginning with the albums proper. All of them are found in their original form, regardless of reissues, to preserve the original intent
²
of each and relegate b-sides, demos, outtakes, roughs, live tracks and radio sessions to separate discs. To further this, each of the accompanying discs is themed to only chunks of that set. For instance, the discs accompanying
Love
are "Singles," "Demos," and "Live at the Hammersmith Odeon, 31 October 1985." This kind of attention to detail warms some stupid part of my heart.
None of these albums is to be scoffed at (though I did learn from the booklet that
Love
very much was, as well as an extreme disaffection for Led Zeppelin in the 1980's British independent music press, which informed the Cult's dismal reviews) and so they all feel worthy of this treatment, and each takes the clever idea of capturing the surroundings of the albums to the extremes when it collects all of the singles, alternate versions, live shows of the time and so on--rather than the recent cheap gimmick bigger labels have of finding randomly recorded versions of all the songs on the album, even if it's two or three decades later (note: worst bonus discs ever).
They are, with the exception of the Cult, both odd bands and odd albums, so I wouldn't necessarily recommend them to anyone and everyone, but I approach these with the mentality that someone must think an awful lot of these albums to do this, to have the confidence in them and release them so I trust in independent efforts like this, as well as the fact that all of these band names passed before my eyes numerous times over the years--indeed, these two Fall albums were the real formation of my interest after the
unfortunate attempt to check them out I mentioned previously.
The booklets also do some interesting things in layout, some I liked and some less so--I'd have appreciated a different approach to track information in most of them, as releases and song with their lyrics were interspersed with the essays and interviews, rather than collected at the front or back. It made it a more complicated task to divvy up the tracks on my computer and associate them with the art, release dates and tracklistings of their original sources. But, I guess, there was also a certain thrill to that hunt, so I can't hold it much against them. And, of course, anything is worth reading about The Fall's notoriously grumpy, acerbic and moody Mark E. Smith turning into a starstruck simpleton upon seeing Bo Diddley.
Now, there are a few caveats here: "Harry," found on the
Kick in the Eye E.P.
from Bauhaus is inexplicably omitted. Beggars have not clarified the reason for this, and, thankfully, it was not the evil cash-grab of sticking it on the limited-from-their-site only
...And Remains
bonus disc that came with pre-orders for both Bauhaus releases (
now available from the Beggars online shop by itself
for the humble fee of $10). That disc, mercifully, is beyond the excessive--of interest to absolute die-hards, I'm sure, but a fourth version of "Terror Kill Colonel" would (Beggars' own description agrees) be beyond excessive, and a tiny handful of live tracks, further alternate takes and remixes is nothing anyone should be terribly upset about missing.
³
Beyond that, the worst thing I can say is that the Fall sets include their relevant Peel sessions of the time--redundant, for those of us lunatics who have the complete Fall Peel Sessions set (yes, that includes me). But, of course, Peel was very clear that The Fall was his favourite band of all time, and their interaction--such as it is--is very important to the band itself, as well. And I'm hardly one to shake my fist over redundancies. After all, it's entirely possible that someone may be cursing the fact that, yes,
the Complete Peel Sessions of the Fall box I just mentioned is now out of print
and fetching a minimum of $90 for a used purchase from Amazon, sure only to go up.
The final note is a simple one: these sets are limited. For what you're seeing, based on major labels and major artists, it'd be easy to sigh, and begin budgeting for a need to purchase them quickly and miss out on some other purchase in the process. Beggars, though, have been very kind to music fans: they advertise these sets as "less than £20." Of course, that's about $40US, but I picked the sets up for $19.98-$24.98 apiece from
CD Alley
, prices below even the regular ones for Amazon (which has them retailing for anywhere from $25.27 to $31.77). For locals, I must note that, last I saw,
The Wonderful and Frightening World of...The Fall
is the only one I've seen on the shelves since I've cleaned them out. Due to the limited nature, the lack of replenishment is unsurprising (especially as Beggars sadly lost some stock in the UK riots)--and the choice of what was replenished is less so, as owner Ryan is a Fall completist himself. Enough that I was driving up once and he told me he'd been walking in wondering, "Who the heck is blasting The Fall?" saw me and thought, "Oh! Of course."
¹
Actually, I was also snagging some holes in my Steely Dan collection, to tell the truth. That doesn't really fit my current overall pattern, but none of my patterns are completely consistent, and price points can lure me away--most of their discography has hit $5 an album brand new.
²
Notwithstanding the peculiar choice of Bob Geldof in the Boomtown Rats issues to recognize the "four corners" approach to a vinyl LP, which led him to shift and re-arrange those albums, as they now had "two corners" when issued on CD. Those corners, incidentally, refer to the beginning and end of each side of an LP, a split that naturally does not exist on CD. I'm a little less cynical than most and thought, "Hey, fair play, I appreciate the thought behind it, myself, though I don't know that I'd necessarily have chosen it, given the chance."
³
If, by any chance, you are feeling generous, I'm not actually
opposed
to the release...